Susanne Shelton
Certifications:
Certified Professional Dog Trainer, KA, Certification Council for Professional Dog Trainers.
Canine Life and Social Skills, Instructor and Evaluator, Association of Professional Dog Trainers.
Canine Good Citizen Evaluator, American Kennel Club.
S.T.A.R. Puppy Evaluator, American Kennel Club.
Business:
Clickety Split Dog Training (previously Braeside Dog Training) since 1990.
Kennel:
National Memberships:
Pet Professional's Guild
German Shepherd Dog Club of America (GSDCA).
National Offices Held:
USCA Mid-Central Regional Breed Warden, 2000-2006.
USCA Breed Advisory Committee, 2000-2006.
Local Memberships:
Oklahoma Working Dog Association (OWDA), since 1992.
Local Offices Held:
Oklahoma Working Dog Association: President, 2000-2008; 2011-Present.
Oklahoma Working Dog Association: Director of Training, 2008-2011.
Like so many trainers my love of dogs has been a lifelong one. My first dog, the family Springer Spaniel, was a constant companion and best friend for many years. Lady was a well behaved companion in part because of her friendly, happy, Springer Spaniel attitude and also because my mother took the time when Lady was young to take an obedience class with her. The training showed and Lady became our family's best friend.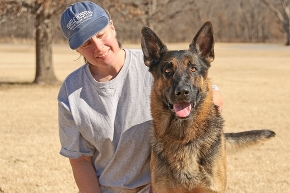 The next dog to come into my life was many years later. It happened when a litter of mix breed puppies was abandoned in our neighborhood. We took on a smallish blond female puppy we called Pitiful (really). It was my turn then to do the training and as a book crazy teenager I was only too happy to do so. With Milo Pearshall's classic training book "Dog Obedience Training" in hand I starting working to train Pitiful. Despite my clumsy efforts, and having only a book to help me, Pitiful was a quick study and easily learned the basics. I enjoyed working with her and loved to set up home made agility courses in the back yard — some 15 years before the sport was organized — with lots of jumps for us to run through. Pitiful, despite being a somewhat sickly dog, lived to the age of 13 years. It was my time with little Pitiful that sparked my passion for dog training, a legacy that has stayed with me from that day in 1981 to this.
Since purchasing that first training book in 1981, the one constant in my life has been my enjoyment of training dogs. And so much has changed in the dog training world since then. Before settling on my current breed (the German Shepherd Dog) I owned a Miniature Pincher, a Doberman and currently share my home with not only my German Shepherds but also three Pembroke Welsh Corgi's, a Beagle Mix, and four cats!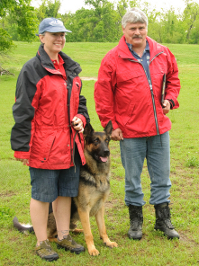 I now compete with and breed my own dogs under the kennel name of Austerlitz German Shepherds. I've enjoyed many dog sports but have devoted the greatest amount of time and earned the greatest number of titles in obedience and Schutzhund training. I've bred and trained numerous High In Trail dogs in agility (bred only), obedience, and schutzhund. I still enjoy competing with my dogs and training at the Oklahoma Working Dog Association, where I have held an office for many years and currently serve as President. Being surrounded by so many fellow trainers keeps me up to date on new techniques. Continuing to compete means my training efforts are judged by others regularly, something I think is of the utmost importance for all pet dog trainers.
In 2009 I was presented with a wonderful opportunity: KOVT the News on 6 wanted to add a weather mascot to the weather team. Since KOTV does so much community outreach teaching adults and children how to be safe in Oklahoma's often dangerous weather, it was felt a canine might be a real asset. The Weather Dog Project was born. The primary goal for Weather Dog was to help children remember weather safety rules, while taking some of the stress and fear out of learning them. Further, KOTV wanted to choose a dog in need of rescue for this project, to show everyone that wonderful dogs are available for adoption. Since no dogs are more in need of rescue than those at Tulsa Animal Welfare it was decided that Weather Dog should be chosen from among the dogs found there.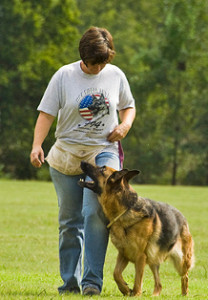 I needed to use everything I had learned about canine behavior and temperament when evaluating these dogs. After all, Weather Dog would have a lifestyle that many dogs would find scary or unpleasant. I knew that the Weather Dog would need to have a temperament and personality that enjoyed meeting new people (often for hours on end); he would need to be unafraid of loud noises (such as the music and sound effects in Trav's Wild Weather Show); flashing lights; and most of all, Weather Dog would need to have tons of potential for training, since advanced training was required if Weather Dog was to be a full-fledged performer and public figure.
To read Weather Dog's full story visit his page on KOTV the News on 6. But, to make a long story short, I found Radar on my first visit to TAW. He tested out perfectly, and he has exceeded everyone's expectations. He is now a full-fledged performer who performs in every Trav's Wild Weather Show, McReady, and in numerous TV appearances. Radar meets the public in numerous public appearances at such venues as Strike Out Hunger, WoofStock, and Read Across America.
Radar lives with me and my family (human and canine), when he is not performing. The training methods I now use have changed him from an unwanted dog with multiple behavior problems, into a full time companion whose part-time job is pretty special!
I started taking training clients in 1990, at the request of my friends, and I found so much enjoyment in helping people train their dogs that I have never stopped!