Sibling School: Spectacular Siblings
$75
Sibling School Basic: $75 (course materials)
Beta test special offer!   Purchase Sibling School e learning course during the beta test and get the Premium course option for the Basic course price!   Enroll now to get this special, once we reach the desired number of beta test students this offer will end without notice.
Raising littermates or puppies close together in age doesn't have to be all doom and gloom predictions!  After writing our popular blog post, Spectacular Siblings: 5 Tips for Raising Litter Mates  we realized how many pet parents had littermates and were unable to find any concrete help raising them.    After months of fielding emails and calls from those seeking help, we decided to put our experience to work as a e learning course and Sibling School was  born!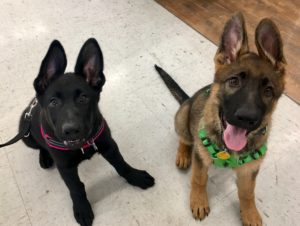 We have raised many sets of littermates and similar age puppies through the decades, let our system help you raise your littermates into the most independent, well adjusted, and happy dogs possible.
Sibling School is a media rich e learning course that give you step by step lesson plans, proven tools and techniques, to help you avoid many of the common pitfalls of raising littermates.   This course is designed for young puppies, littermates or puppies of similar age, who are being raised together in the same household.  While these techniques will work well for hyper bonded juvenile and adolescent dogs it is not sufficient to address serious problems of inter home dog to dog aggression.
Sibling School is rich with text, photo, visual, and video lessons but what you won't find is scare tactics, shame, and pessimistic predictions about "littermate syndrome". Instead you will find concrete and actionable steps for raising the best puppies possible.
If you are ready for some hard, but fun, work raising the best littermates ever enroll now!