Reactive Rover
$175
Does your dog overreact when exposed to dogs?  The barking, the lunging, the spinning, all that nonsense? Then Reactive Rover is the class for you.    Using only the most modern and effective techniques we can help you teach your dog better, less impulsive, behavior so you can enjoy your walks again.
Reactive Rover is suitable for dog reactive dogs; if your dog is reactive towards humans please visit our Private Lesson or In-Home Training page. If you are uncomfortable working with your dog reactive dog in a group setting Reactive Rover can be taught in a private lesson format.
Reactive Rover is 6 weekly group lessons: $175
Classes are held at Dogville Daycare and Boarding, 9525 E. 47th Place, Tulsa, OK 74145.
Sundays, February 26- April 23, at 1:00- 2:30  $175
This class requires instructor permission to enroll, so please send an email to Susanne to enroll.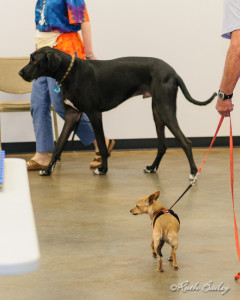 ---
"I never would have believed it possible that Harley could be so polite and mannerly around other dogs, I actually felt confident enough to walk him in our neighborhood the other day, you would have been proud of us both, I remembered how to help him and we had the best walk EVAR, no barking, screeching, or other embarrassments!  This the same dog that was labeled untrainable, the same dog who broke pinch collars, bit through leashes, bit ME, in his frenzy, just taking a walk like everyone else. You saved us, thank you".
Mike and Harley