Puppy Jump Start
$250
Wish you had a puppy expert to help you raise your puppy? Susanne and Rebecca are internationally known for their pragmatic and practical puppy raising techniques.  Let us help you get your puppy off to the best start possible!
If you are welcoming a new puppy to your home, or have a new puppy in your home, our puppy jump start package will answer all your most pressing puppy raising questions. We will give you practical puppy raising solutions, and help you get your puppy off on the right foot quickly and easy.
You can even set up your package before your puppy arrives in your home to ensure you are prepared!   Schedule one session before your puppy arrives, and the second session right after the puppy comes home.
We'll support you through the process of getting off to the right start with your puppy.
Puppy Jump Start: $250 and Includes
2 Private, In Home, Sessions (the first session is 90 minutes, the second 60 minutes)  with our puppy raising specialists, we will get you all set up with a detailed puppy raising plan.
Phone Support: We want you to be successful, and we know you may have questions as you work with your new puppy.    Talk to one of our trainers as needed, during regular business hours, up to 2 ten minute phone consultations are included in your package.
Exclusive Facebook Suite of Groups: Here you can find detailed written, photo, video instructions for a variety of manners training and solutions.   Want more?  Check out our regularly posted "real time" live training videos of the training we do with our own, and client, dogs.
Poop School: House Training Basics (Exclusive: this group houses our complete house training protocol)
Clickety Split Dog Training Student Group (Exclusive: this group houses basic skill training instructions)
German Shepherd Dog Network:  (Available to all breeds/mixes this group features more detailed resources curated for your use, from puppy, dogs and kids, to detailed training plans)
Shark School:  (Coming in summer 2019, this exclusive group devoted to addressing puppy nipping, chewing, and biting)
Real Time Support via Chat: FB groups (such as Poop School: House Training Basics) that have chat enabled offer real time support via chat during business hours.
Availability:  Sessions are scheduled on consecutive Saturdays or Sundays between the hours of 10:00 am and 3:00 pm.
Contact us to schedule!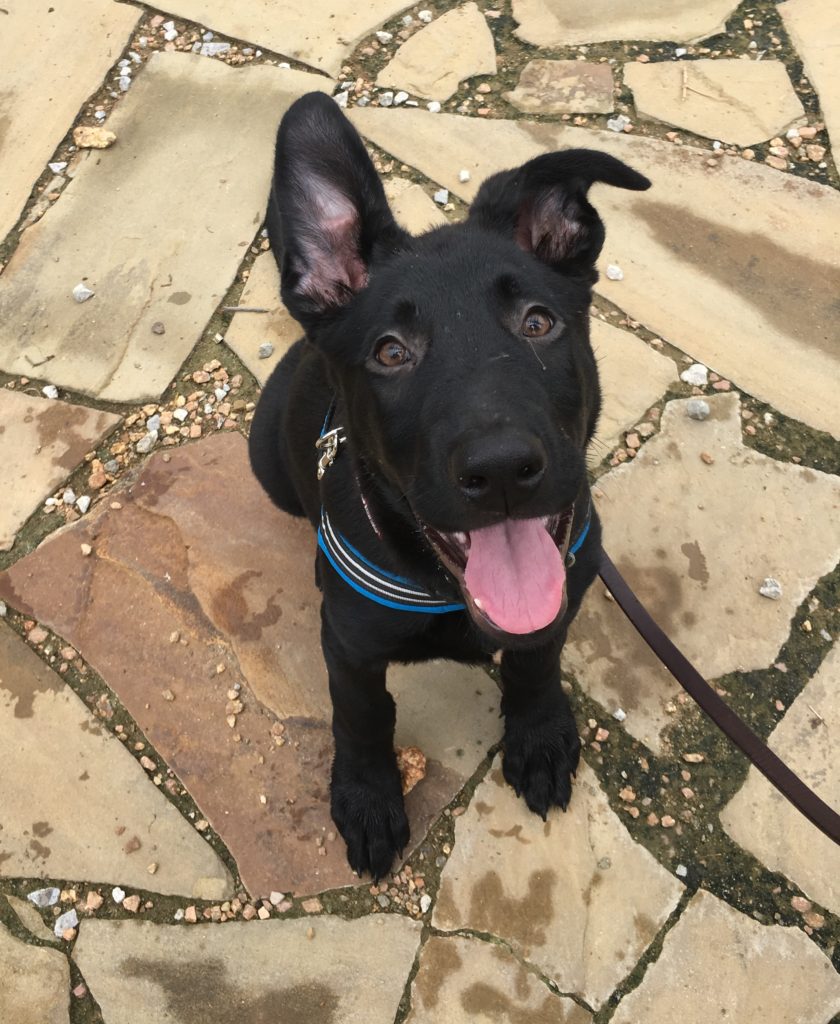 ---
"Really, REALLY, loved having you come to the house.  You've no idea how much easier this made working with Molly with our hectic schedule.  I really liked being able to take two weeks between lessons, I found I made much more progress and was able to take full advantage of the lessons and all the material you include.  Being able to see how to actually apply the skills to the difficulties (like the stealing of items and food, jumping up, and door dashing) we were having was amazing.  It was like an "ah ha" moment and made all the difference.   Thank you!" 
Amanda and Zoe (with Molly)