Private Lessons
starts at $225
If your schedule makes attending a weekly class troublesome, or if your dog would learn better with fewer distractions, then private lessons are a convenient and effective option to group classes. Any group class can be taught privately, or we can develop a custom behavior modification plan specific to your needs. Private lessons are scheduled on Sundays at Dogville Daycare. Lessons can be scheduled weekly or every other week, depending on your schedule. Private lesson packages must be paid in full at your first appointment. 
Private Manners Package:
Private Lesson Manners Special: You can include up to 2 dog/handler teams in your private lessons. So, if you want to include up to two family dogs, or share with a friend or family member, there is no additional charge. (This special is for Manners only, with a single payer and shared appointment time.)

Custom Behavior Modification Package:
4 Lessons $300

5 Sessions $350

6 Sessions $400
 Private lessons require instructor permission to schedule and enroll, so please send an email to Susanne to enroll.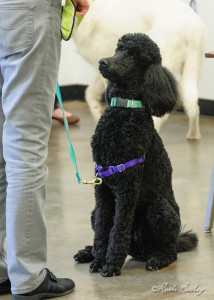 ---
"I so appreciated being able to work with you privately, we were having so many problems with Duke and felt unequal to controlling him, so the thought of trying to work with him in a group class really scared my husband and myself.   But after our first lesson with you we both felt we understood Duke better and you gave us things to do right away to help us feel more confident controlling him.    I never felt unequal to being his fur parent again, and I rediscovered how smart he really is.   Not only is his behavior much improved but WE are much improved.   I was never so proud of us as when Duke graduated from Foundations 2 and earned his Canine Good Citizen.  Thank you for all your help and encouragement".      
Martha and William (and of course Duke)