Poop School: Litter Box Training For Breeders/Fosters.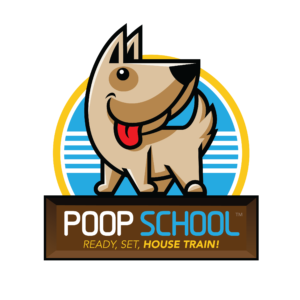 Why and what is Poop School? 
I vividly remember standing in the middle of my puppy pen crying, big…ugly…crying, because not even 30 minutes after cleaning up morning poopmagedon. You know the early morning rolling up of soiled newspaper, the scrubbing of the floor, the wiping off of poopy and funky smelling puppies, the collection, pretreating, and laundering of bedding, and resetting of the puppy pen into pristine cleanliness. I was faced again with a poop smeared pen.   Like some type of a poop grabbing ninja I deftly moved round the puppy pen after puppy breakfast, trying to pick up poop and soiled newspaper before the puppies got dirty.   As I would bend over to grab poopy paper, the puppies would all rush over to see what I was doing, often stepping in poop and smearing it on my hands and arms.   The futility and frustration was the cause of my sobs, big ugly frustrated poopy armed breeder tears.     I knew there had to be a better way but I had NO idea what that way was.    I knew I wanted a clean and tidy puppy pen, but I didn't know how to make that happen, yet.  
I would like to say that, like a lightning bolt, the solution came to me, but in truth I tried many different things, talked to many different breeders about their struggles and successes with litter box training, devised a plan, used it, changed it, making continual improvements based on my experiences and observations over several years.   I finally hit upon a system of litter box and  cleanliness training that created clean habits that persisted into the new home, that worked not just for me and my puppies but for all sizes and types of dogs.  A plan that allows puppies to teach themselves to prefer to be clean, that reduces caregiver clean up time, reduces opportunities for pathogen spread,is easily adaptable to different set ups, and produces puppies that are easier to house train and cleaner in the new home.  
Poop School is that system.  
Poop School is an e-learning course with a laser focus on imprinting cleanliness through litter box training of litters of puppies.
The course focuses on practical and pragmatic breeder skills, practices, and technique.
Making the most of management to funnel puppies towards the behavior we want, in a hands off and time saving way.

 

Creating weaning pen set ups that foster the clean habits, while being easy to maintain for the breeder and beneficial for our puppies health and behavior.
Understanding and leveraging the power of our puppies' natural instincts to build clean habits that can last a lifetime.

 

Knowing when, and how, to adapt your set up to the needs of your breed and puppies for optimal success.

 

Becoming a master of observation, learning to observe and make informed and clever choices instead of knee jerk changes that may cause more mess and frustration.

 
---
We have been nothing short of delighted how well our system is working for breeders and fosters. 
But don't just take our word for it.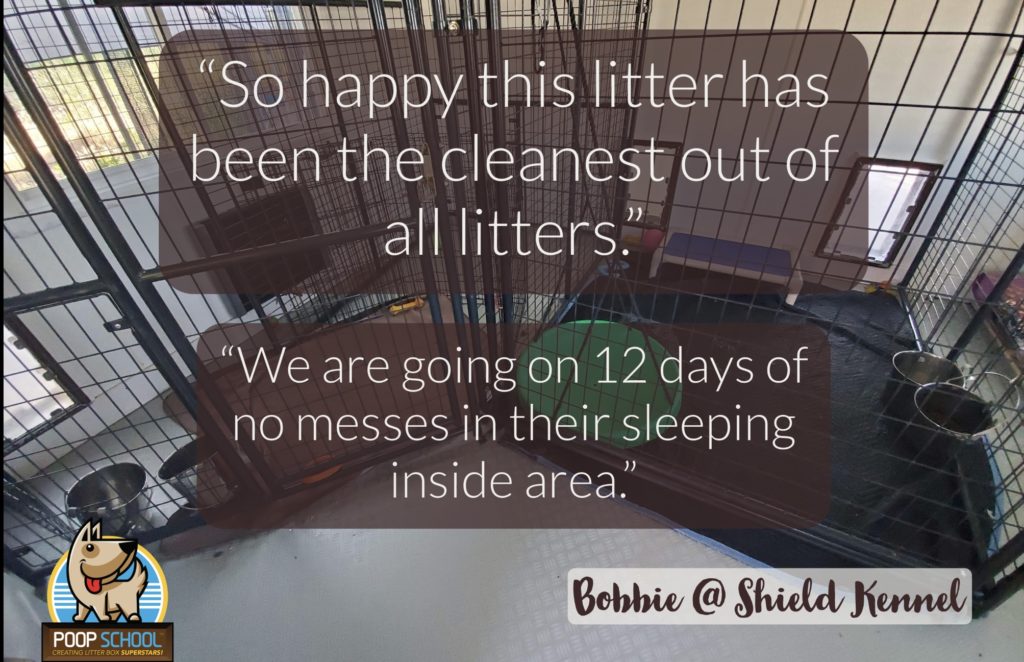 "I'm so impressed with how well this has worked!"
"This has been one of the most helpful tools I have used in my years of breeding dogs.  The group and Susanne are knowledgeable, helpful and all together wonderful work with.  My litter was the cleanest litter I've had and when they went to their new homes were easy to housebreak.  Highly recommend breeders new and long time take this class"   Barb B.
"Susanne's Poop School training is chock full of excellent training with fast feedback for questions.  Using this training gave me more time to do Puppy Culture protocols with my pups.  I highly recommend this program for litter box training.  The house training component for new families is also excellent.  Now that I found this program I will continue to use it and offer it to new families."  
"Both the programs offer through content that is designed to set both breeders and new owners up for success" 
Michaeleen Rogers
"This course made all the difference with our shelter pups". Bonita Ash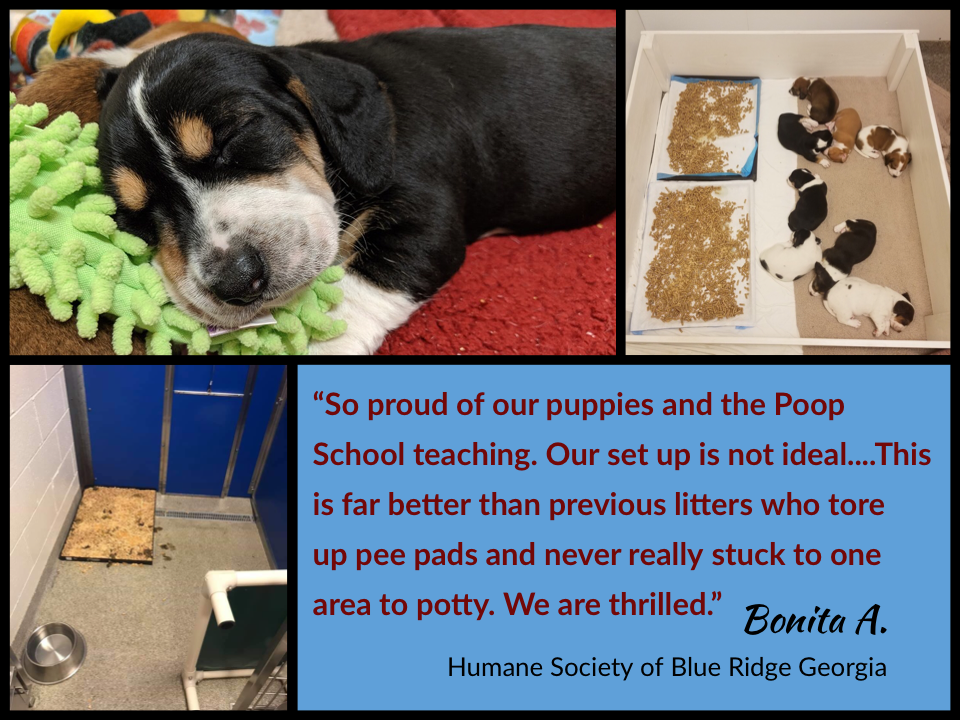 "Poop School has been  so wonderful.   Using everything I've learned has made so much difference with this litter of 9.   They are cleaner.  I don't have to spend so much time cleaning up after them so I have time for other PC things."  Debbie McCollough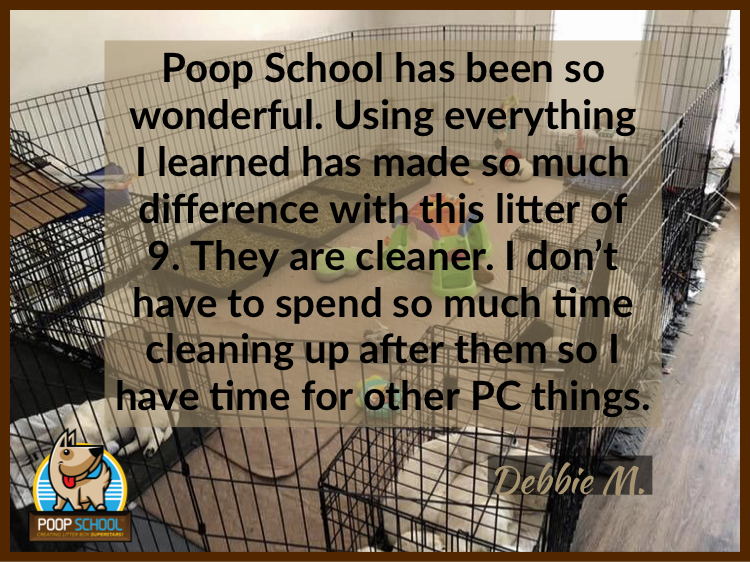 ---
So, how does this course work?
There are two levels of enrollment:
1. Poop School: Basic $75

2. Poop School: Premium $150
All students receive:
?Ongoing access to the complete Litter Box Course.
The course content is in the following formats.  
Detailed written materials on core concepts, pen set up and supplies, and weekly progression plans.

 

Photo examples for all lessons.

 

PowerPoint Lessons for each section.

 

Webinars and/or Live Video for each section.

 
Premium Students get the course material described above PLUS:
Poop School: Litter Box Basics for Breeders and Fosters detailed above.

 

Prompt support and guidance from instructors Susanne Shelton CPDT-KA and Rebecca Pinkston via a private Facebook Group.

 

Membership in the Poop School Premium Member Exclusive FB group (for support, feedback, breeder networking and access to Puppy Pack items).

Membership in the Clickety Split Dog Training Student Group on Facebook. 

Poop School Puppy Pack Benefits (House Training Group, handouts)
2 months breeder/foster membership to the course: Poop School House Training Basics
The Puppy Pack Includes: Included with Premium Membership
The Poop School Puppy Pack will help you support your puppy's new family with a detailed house training plan and resources.  
2 Month Membership the Poop School House Training Basics Course (A private FB Group) for your puppy buyers.

 

Handouts on house training subjects, including a tip sheet and a meal/potty break schedule.

 

A supportive, pro breeder environment crafted to help your puppy families enjoy their puppy and create solid house training habits from the start.

 
Poop School House Training Basics FB Group houses our complete house training course so your puppy families can leverage your had work into efficient house training once they bring their puppy home.    Your puppy families will get a complementary 1 month membership in the house training class, with access to it's written, photograph, and PowerPoint content.   Ensuring their puppy gets off to the best start possible.  
The House Training Basics Course is housed in a closed FB group and includes the following subjects. 
Management
Schedules
Pattern Training
Preventing accidents and unintended learning
Teaching puppies to potty on leash, in front of people, and on cue.
Special sections for:

 

Apartment Puppies, Show/Sport puppies, puppies who travel, long term litter box use, and teaching "potty before play".

 
Course materials include:
Written Instructions
Photo examples
PowerPoint Presentations
Limited Q and A in group.

 
 As a Poop School Premium Member, you enjoy access to all course materials, updates, and course additions, a private FB group with other Premium Members for real time support and advice, a private FBM Chat, and access for your puppy families to our house training course, Poop School: House Training Basics.

Contact us if you have questions about Poop School!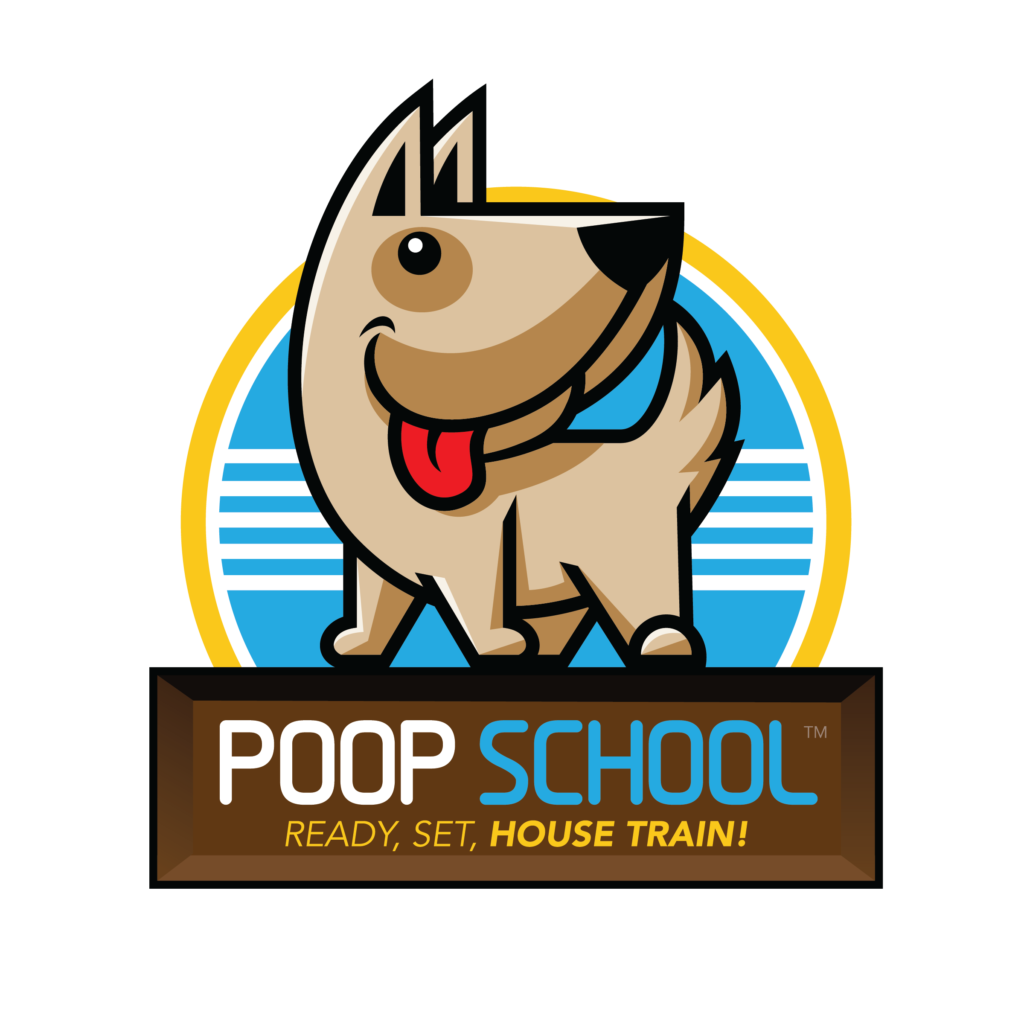 ---
"Poop School has been  so wonderful.   Using everything I've learned has made so much difference with this litter of 9.   They are cleaner.  I don't have to spend so much time cleaning up after them so I have time for other PC things."  Debbie McCollough