Beginner Manners
$100
Our Beginner Manners class focuses on the everyday life skills dogs needs to be enjoyable companions. More than just rote drilling of obedience commands, Beginner Manners breaks out of the obedience ring and into the real world.
Who is this class for?  Dogs over 6 months (for puppies under 6 months please visit our Best Puppy class), who are comfortable working in a group class setting (this class is also available as private lessons).
What will you learn?  Beginner Manners focuses on the following Real Life Core Skills: Attentiveness and Come when Called, Self Control/Leave it, Sit and Polite Greeting, Polite Leash Manners, Down and Settle Down.
When does it start?  Beginner Manners is Open Enrollment, sign up today and start this week!   You can start anytime!  Dogs must have been in your home 14 days before your dogs first class, or seven days before your Orientation class.
What does it cost?  $100 for 6 weekly group lessons (50 minutes in length).
What Day/Time:  Sunday at 1:00
Where is class held?  This is an indoor climate controlled class held at:
Dogville Daycare (tan building to the east of the bright blue Dogville Boarding building) 9525 E 47th Place, Tulsa Ok 74145
A dog who happily and promptly comes when called, who can ignore common distractions like other dogs and dropped food, is more enjoyable to live with. When you can proudly and confidently include your dog in fun activities because you don't have to worry about barking, lunging, dragging, or jumping up, you and your dog will be so much happier. We'll even teach you how to have a calmer dog, one who can settle down when needed, is more focused, and responsive to you. Everyday life with your dog ceases to be an endless chant of "NO" and starts to be the fun and happy times that first led you to add a dog to your home.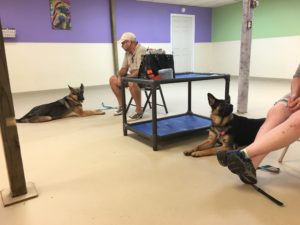 ---
"LOL, that Settle Down we learned in week 3 changed my life."

—–
Kaitlin and Harry Pupper.