Beginner Manners: Best Puppy
$100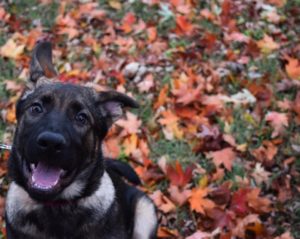 Beginner Manners: Best Puppy is designed to give you the support and guidance you need as soon as you bring your puppy home and before bad habits set in.  Sign up today and start Sunday!
Who is this class for:  Puppies between the ages of 8 weeks and 6 months.  Puppy must have been in your home at least one week prior to your Orientation Class/2 weeks prior to puppy's first class, and if under 16 weeks be receiving regular veterinarian administered vaccinations on schedule.
What will my puppy and I learn? The Real Life Core Skills: Attentiveness and Come when Called, Self Control and Leave It, Sit and Polite Greetings, Down and Settle Down, Polite Leash Manners.
Puppies tire easily and have a short attention span, Best Puppy Features "just right" puppy sized lessons, while your puppy is resting and learning to settle, you will be learning about:
1. House training, crate training, and independence training.
2. Biting, mouthing, chewing, and how to tame those teeth.
3. Socialization: How to keep it safe and effective.
4.  How to teach your puppy to control herself.
5. How to use toys and meals to prevent bad behavior.
6.  How to prepare now for Doggy Teenagers!
When and where is class?  Sundays at 2:00 at: 
Dogville Daycare: 9525 E 47th Place, Tulsa (near 51st and Mingo)  Daycare is the tan building to the east of the bright blue Dogville Boarding and just down from Kitty City.
How does Open Enrollment work? Designed with your schedule in mind, Open Enrollment allows you to start at any time. No more waiting for the next class to start! Beginner Manners Best Puppy includes 6 weekly lessons, you will have 8 weeks from your Lesson 1: Orientation, date to complete all 6 classes, this means you can start when it's convenient, and "skip" up to 2 classes without "loosing" a class or being required to schedule an invonvient make up date.  6 classes, 8 weeks to complete, easy peasy!
How do I sign up:  Easy, just e-mail and let us know what date you want to start and we'll bring your class materials to your Orientation class (Puppy stays home for Orientation).